India is a lucrative market for car manufacturers around the world and many big automotive companies have entered the Indian car market. Recently, the market trend is changing and Indian buyers are getting more inclined towards buying SUV cars and some major companies like Chevrolet, Toyota and Hyundai wants to capitalize on it.  Chevrolet is getting ready to launch a face lifted Chevrolet Captiva in the market very soon. Toyota has already launched Toyota Fortuner, while Hyundai also has its Hyundai Tucson. Though it's quite tricky to answer which is the best among the above three SUVs, but to make life simpler and easier let's make a comparison between these three and check which is the best. So, let's begin with Chevrolet Captiva, this SUV is living up to company's tradition with an elegant and aerodynamic design. While Toyota Fortuner features a masculine structure and is carved to perfection. While the design and structure of Hyundai Tucson is in line with the European styling that is adding to the beauty of this SUV.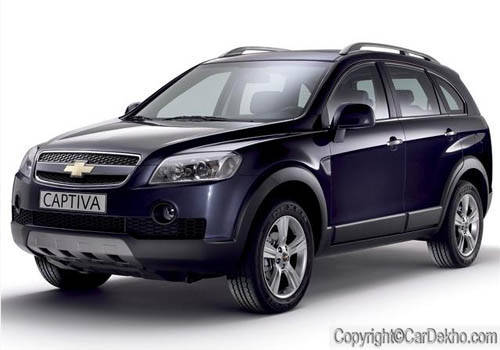 As of now all the three variants look stunning, now let take a look at the engine displacements and their specifications. Chevrolet Captiva is fitted with 4 Cylinder, 2.0L VCDi engine, which has the ability to produce 150 Ps of power and a peak torque of 320 NM. While Toyota Fortuner is fitted with 3.0L D-4D Diesel engine with intercooler Turbocharger and has the ability to produce 171 Ps power and a torque of 343 NM. Moving on to Hyundai Tucson, this SUV is equipped with a 2.0 litre turbocharged CRDi engine that can produce 112 Ps and 245 NM of torque. Out of these three SUV's Chevrolet Captiva is more fuel efficient 10.5 Kmpl, while Hyundai Tucson stands at second position with 9.7 Kmpl and Fortuner with 7.8 Kmpl.
Coming to the pricing of these SUV's Toyota Fortuner is the most expensive, and comes with a price range of Rs. 20.79 lakh, followed by Chevrolet Captiva at Rs. 19.07 lakh, and cheapest among the three is Hyundai Tucson at Rs. 16.27 lakh (all prices mentioned are ex-showroom Delhi). Given a choice, Toyota Fortuner will be the best, but with the newfangled Chevrolet Captiva coming in, the decision of which one of them is better can be taken after some time. Meanwhile, a few other SUVs such as Tata Safari Storme, Renault Duster, Audi Q3 and Premier Rio Diesel are also expected to be launched soon. I shared that Tata Safari Storme and the Other Awaited Upcoming Cars and Tata Safari Storme Launch, Will This be a Defining Moment for the Tata Motors?